Updated: 03/11/2020 – PRC announced the public advisory regarding cancellation of the Licensure Examination for Professional Teachers (LEPT or LET) also known as Teachers Board Exam together with other licensure exams scheduled in the month of March-April, 2020.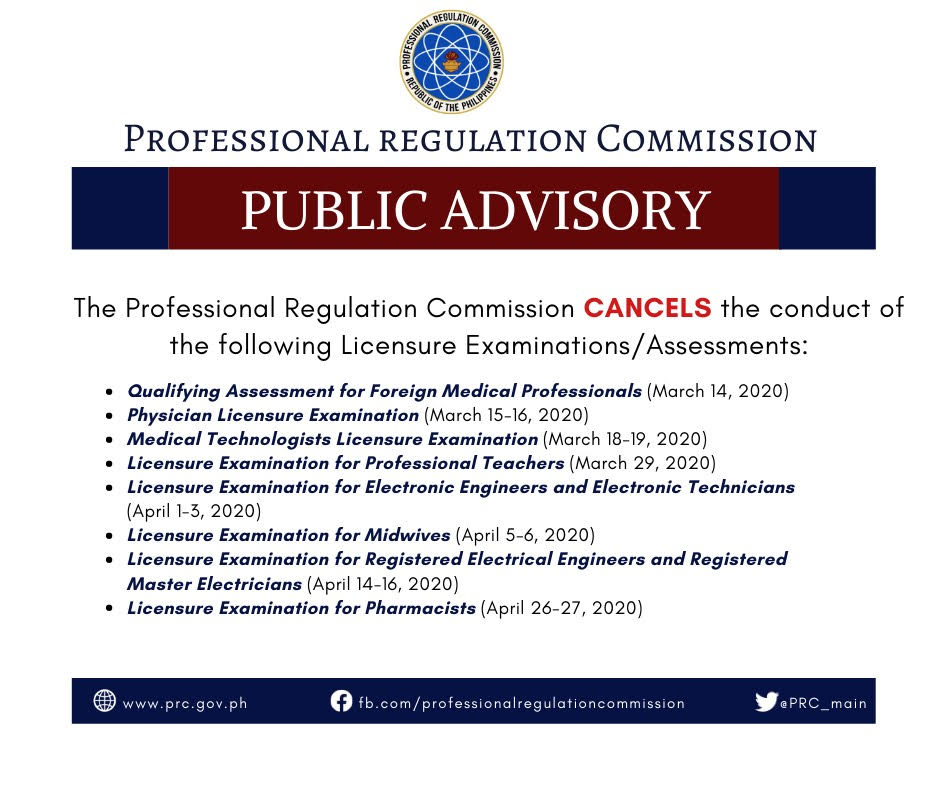 The full list of examinees room assignment for March 2020 Teachers Board Exam (Elementary and Secondary levels) also known as March 2020 Licensure Examination for Teachers (LET) is shown here.
The Professional Regulation Commission (PRC) together with Professional Regulatory Board for Professional Teachers (PRBPT) will administer the Board Licensure Examination for Professional Teachers (BLEPT) also known as Teacher Board Exam on March 29, 2020, in different testing centers all over the country.
---
LIST OF TESTING CENTERS
Below is the full list of examinees of room assignments in selected schools from different testing areas assigned for March 2020 Teachers LET Board Exam:
Manila | Bacolod | Baguio | Butuan | Cagayan de Oro | Catarman | Cebu | Davao | Dumaguete | General Santos | Iloilo | Kidapawan | Laoag | Legazpi | Lucena | Masbate | Marinduque | Occidental Mindoro | Oriental Mindoro | Pagadian | Palawan | Romblon | Tacloban | Tuguegarao | Zamboanga
Note: Please click on your designated testing center above to check/verify your school, room, and seat assignment in the coming Teachers examination.
---
EXAMINATION COVERAGE
---
INSTRUCTIONS TO ALL LET EXAMINEES
As instruction given by PRC, on the day of the examination, all examinees must report to the school/building/room assignment not later than 6:30 A.M. Late examinees will not be admitted, examination fees for late examinees will also be forfeited.
Examinees must observe the required attire on examination day. For male examinees, it must be a white polo shirt with a collar and decent pants or slacks. For female examinees, should wear a white blouse or shirt with a collar without any seal, logo, or mark and slacks or decent pants.
Also, examinees shall bring the following requirements on examination proper. The Notice of Admission (NOA), Official Receipt, Pencils No. 1 or 2/ Black ink ballpen, metered-stamped mailing envelope, long brown and plastic/transparent envelopes.
Examinees are allowed to bring and eat their food inside the examination room.
Examinees will be ground for cancellation of examination when they are non-compliance with test instructions.
Do not bring the following inside the examination rooms/premises: Books, notes, review materials, and other printed materials containing coded data/ information/formula; Programmable calculators; Mobile phone, beepers, portable computers or similar gadgets/devices; Bags of any kind (ladies bag, shoulder bag, attache case, backpack, etc.); other examination aides not stated in the program.
---
To receive an update from room assignments of March 2020 Teachers LET Board Exam visit the PRC official website or follow us on our social media pages via Facebook and Twitter. And you may bookmark this page for easy access. – Philboardresults.com